Resource Efficient Building · Louisville, KY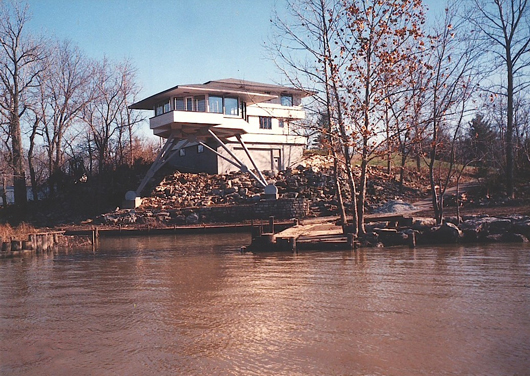 This 5,400 square foot guest house is an example of energy efficiency and ecologically sound materials. Views to the south east and south west demanded large glass areas. Solar gain was controlled by using infrared rejecting low-e glazing.
The house will be used for guests, has apartments for a nanny and grounds keeper, and as a workshop for the owner's home occupation as an inventor of high tech machinery.
Resource and energy efficient materials include R-8 windows, recycled cellulose insulation R-44 at roof and R-30 at walls. High efficiency HVAC equipment is zoned and has intelligent controls. When weather permits the house is cooled with natural ventilation augmented with a whole house fan. Hot weather cooling is made more efficient with ground water cooled heat pump. Natural gas provides heating. Domestic hot water is provided with natural gas high efficiency condensing type water heater. A blower door test for air infiltration provided quality control. Siding and soffits are industrial quality cement fiber boards applied with stainless steel screws that will be left unpainted and have a life span of 65 years minimum. Recycled plastic lumber is used for exterior trim and deck boards.