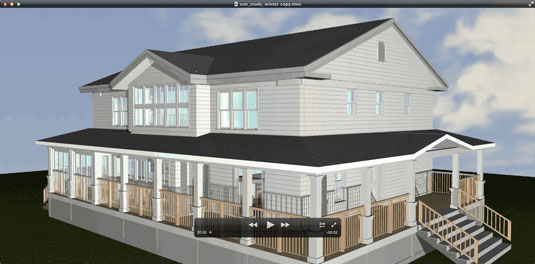 Sun Study Over Spring Hill Residence
DESIGN INTENTION
The owner intended for their new residence and site development to be genuinely green. They hoped to receive the one of the highest current levels of green recognition such as LEED of Platinum Certification. The project will be zero-net energy.

CONTEXT
The term "green building" has come into common use and has a wide range of meanings. Our goals for this project are on the frontier of the green building movement. Our primary intent is not just to win points from green checklists but to understand and implement the deeper purpose behind those points. Our collaborative efforts for this project will only be successful if we meet the owner's functional, aesthetic and budget requirements while being on the frontier of environmental responsibility. It is therefore critical that while designing and constructing each of us be ever vigilant to ways for improved environmental responsibility.


A. Site Goals
Best practice standards:
a. Bay-Friendly Landscape, Sustainable Practices for the Landscape Professional
b. National Wildlife Federation Backyard Wildlife Habitat
c. Include consideration of site soils, geology and topography. Rainwater catchment for use as potable water. Grey water for toilet flushing and irrigation.


Study the site for solar access and microclimate to inform the building design for active and passive heating, cooling, ventilation and renewable energy.
a. Solar study of building site to determine solar access for each season.
b. Weather study to determine feasibility of wind water pumping. This weather data shall also be used in determining appropriate climate zone for energy use modeling.


Explore alternatives for treating human waste to benefit the health of the land. Work with consultants who know how to work creatively with government agencies. Waste water treated on site.


Compost food and landscape waste on site.


Ecological restoration within the context of the ecology of the region.


Other permaculture considerations shall be explored as they unfold.


Design landscaping to meet the Owner's functional and aesthetic goals while incorporating the principals of permaculture.


B. Energy Efficiency
Goal if for this home to exceed CA T24 Building code requirements by approximately 90% for heating, cooling, & ventilation and 75% for lighting (shown by computer energy simulations) by utilizing:


Careful orientation, window placement and glazing selection.


Careful design of space planning and building massing to achieve an efficient plan compact volume that feels spacious.


Careful design of building envelope for thermal performance and air leakage.


Building design for optimum passive solar heating, passive ventilation and cooling leading to much smaller mechanical systems with better comfort.


Provide energy use "dashboard" for real time feedback of electrical use.



C. Zero-net source energy and carbon neutral energy from renewable energy sources. Grid connected photovoltaic system source of electricity.
Wind energy may be a good source during the winter. An anemometer will be placed on site to help determine feasibility.


Carbon neutral space and water heating: The space and water heating system will include solar water heating panels mounted on the roof, water tank thermal storageand backup renewable energy water heating. The backup water heating will be a ground source heat pump utilizing trenches used for waste water, utilities and drainage.



D. Resource efficiency We will minimize the building material and water use, and increase building durability.
The most important resource efficiency feature is very careful building design to eliminate unnecessary floor area and volume while achieving the owner's functional and aesthetic goals.


Structural design shall include the following analysis:
Foundation and lateral design criteria to resist site-specific earthquake and windstorm potential for not just code minimum but to prevent significant structural damage in up to (500?) year events. This usually adds (very little?) to the design and construction cost when considered early in design. I do not know why the green rating systems do not include this important durability issue.


Building durability shall exceed code and conventional practice.
Structural design criteria will be to resist site-specific earthquake and windstorm potential for not just code minimum but 500 year events. This usually adds very little to the design and construction cost if the integrated design process is used. I do not know why the green rating systems do not include this important durability issue.


Structural material efficiency shall be achieved by integrated design with early collaboration of the architect, engineer and contractor.


Wood use shall be reduced by using Structural Insulated Panels (SIP) for walls and roof. A synergy is that SIP construction also reduces air leakage leading to improved energy efficiency.


Concrete use will be kept to a minimum by exploring alternative methods and materials. Portand cement will be reduced by at least 50%
a. Exterior slabs avoided by using paving from tree resin bound aggregate composites.
b. Walkways & patios shall be pavers set on a permeable base such as sand over a permeable subbase.